Haruhi-ism – Noizi Ito Art Collection Overview
March 4, 2010
The first thing that I want to say is that Noizi Ito-senpai's work is amazing. This artbook, however, isn't as good.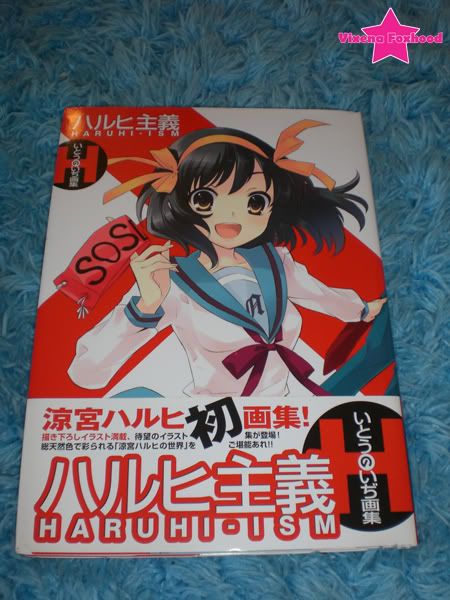 This overview is on Haruhi-ism, the art collection of Noizi Ito. My regular visitors know that I love Haruhi and the gang very much, and any merchandise on the series is pretty well done (the figures alone are just amazing.), but this artbook was painful to look at. Not because of the art, because the art is as stunning as it should be, but the format of this book… I mean seriously, did the publishing company really think it was ok to release it like this? To see what i mean, read on.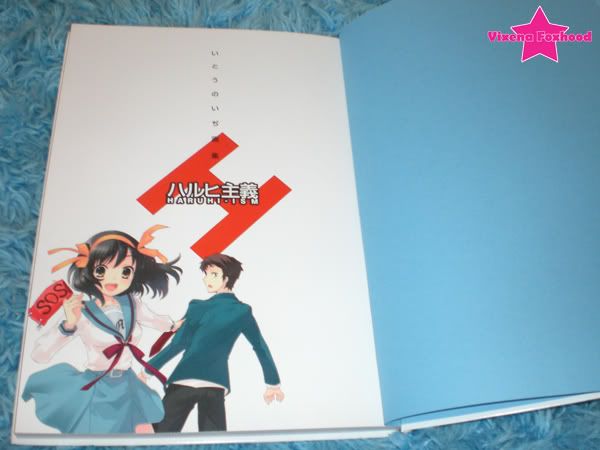 Name: Haruhi-ism – Noizi Ito Art Collection
Pages: 120 (2 pages in Black and White, 118 in Color) This book is entirely illustrations
Average Price: $45 without shipping
I do like that this entire book is pure illustrations… but someone really messed up as to how the illustrations were presented. For real. This overview was painful to do, considering how bad the pictures came out -_-;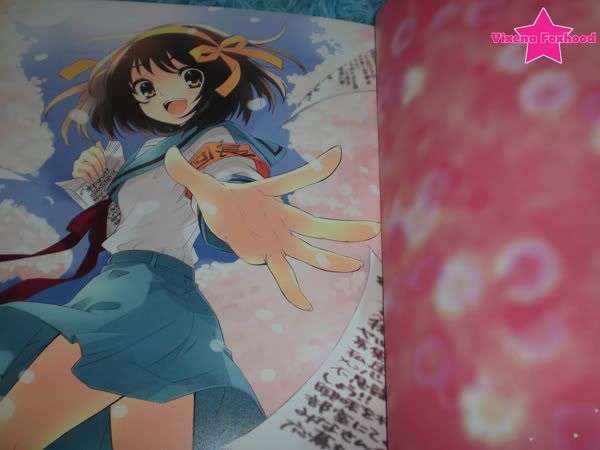 The book is separated in to seasons so the pictures in each season fit that theme. We start with Spring.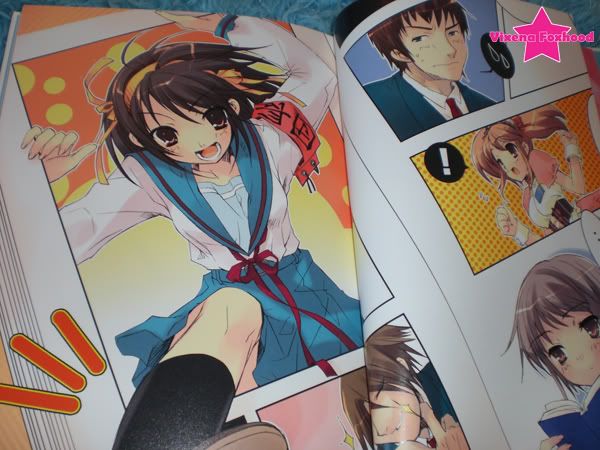 The book also includes these comic panel type illustrations that have Haruhi ~breaking barriers~ You get to see the main problem I faced here, though it isn't so noticeable.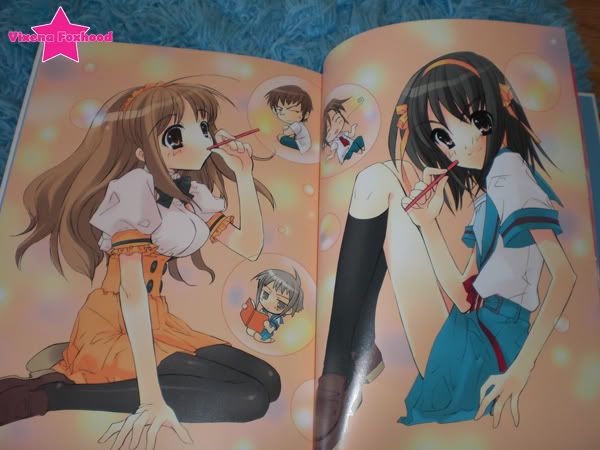 Hmm, see it yet? Don't worry, you will.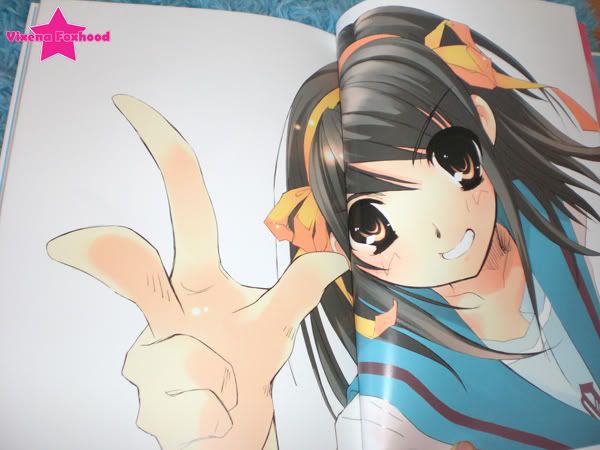 Prime example, right here. The biggest peeve of mine with art books is when the book gets in the way of the illustration. Because, let's be honest. You can find these images online and save them to your hard drive. If you have a big screen, you can enjoy them in HQ quality without having to buy the book. The reason I buy the art books is so I can enjoy them OFF the computer, in great quality, and have the pride of owning it. LOOK AT THIS CREASE. It completely ruins the image for me! Poor Haruhi's face is cut off and everything!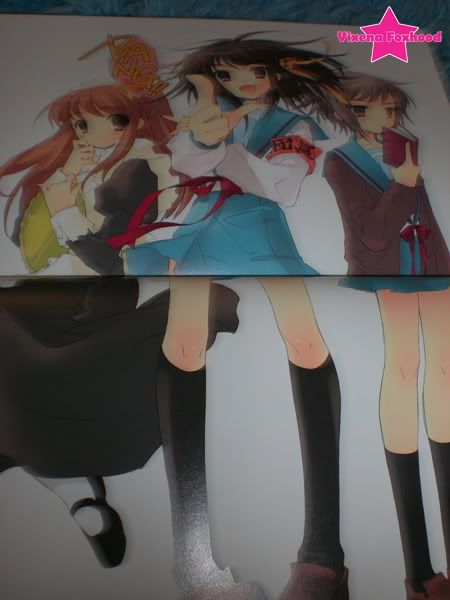 Ah, this illustration ;-; The girl's legs are all horribly creased inwards.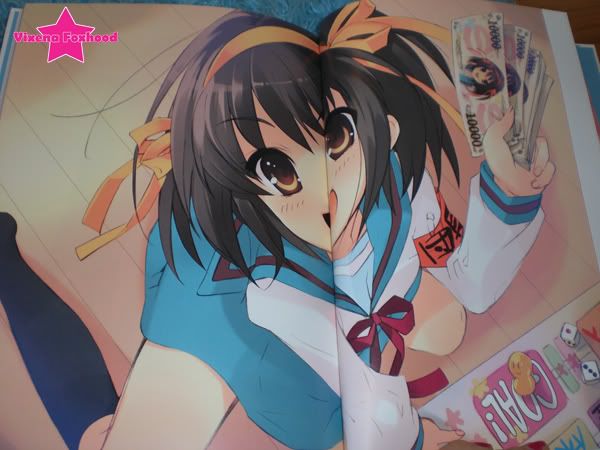 When I first opened up this book, I literally just sat there looking at this picture. It's so pretty, and it got RUINED. I think this one is probably the worst one out of all of the pictures.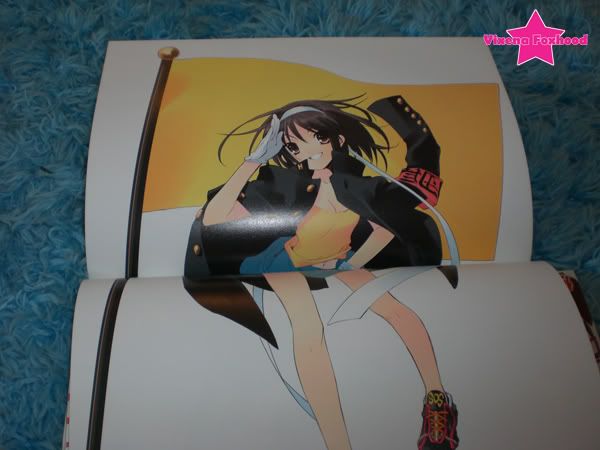 I don't even see the point of putting this picture in the art book after seeing it so badly butchered.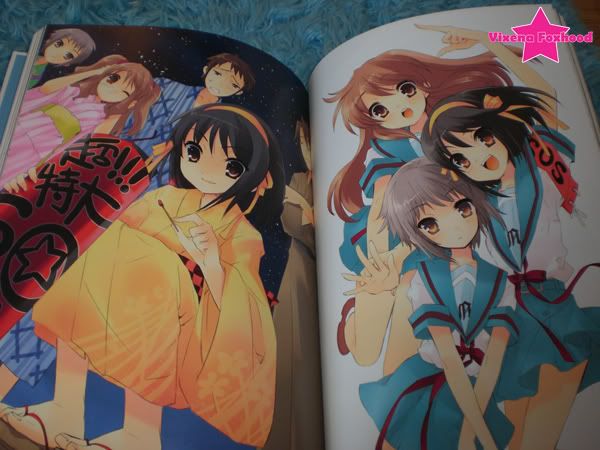 I wish they stuck to this format through out. Just stick one image on each page so we can enjoy the entire thing! What's this about making it all big, NOT NECESSARY if it's going to ruin the picture! See how pretty this layout came out?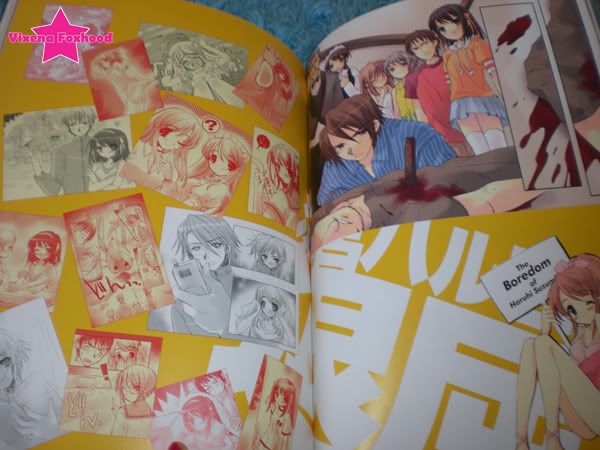 They also take tidbits from the novels and place them throughout the book. This layout works fine too because it isn't ruining any images.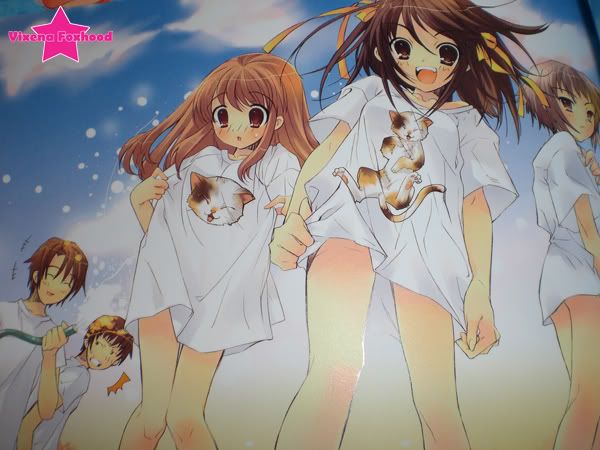 This picture wasn't so large in the book, really. I just closed up on it to show that even if they scaled the image down, it would have been fine. This one came out great and it was only  apart of the page T_T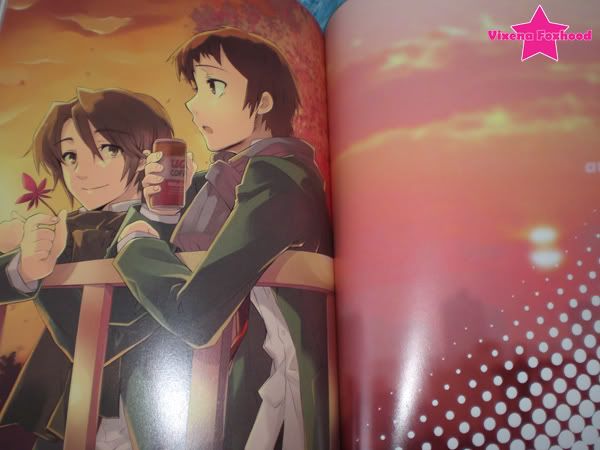 This is Fall. This one didn't come out too badly either.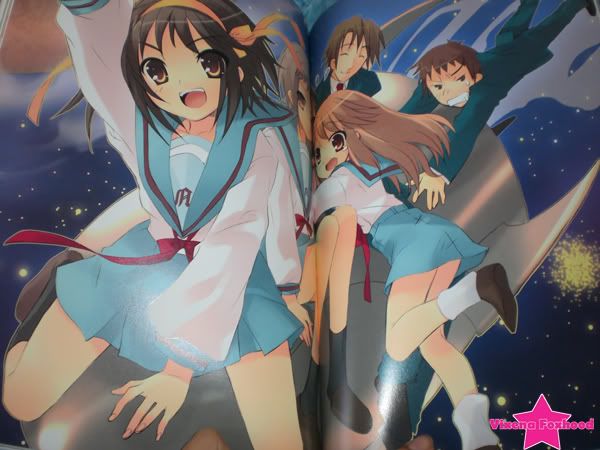 I had to almost break the binding to get to see Yuki. It was upsetting.
This picture is so wrong .-. The SOS Brigade Chief isn't even in the picture thanks to someone's stupidity!!!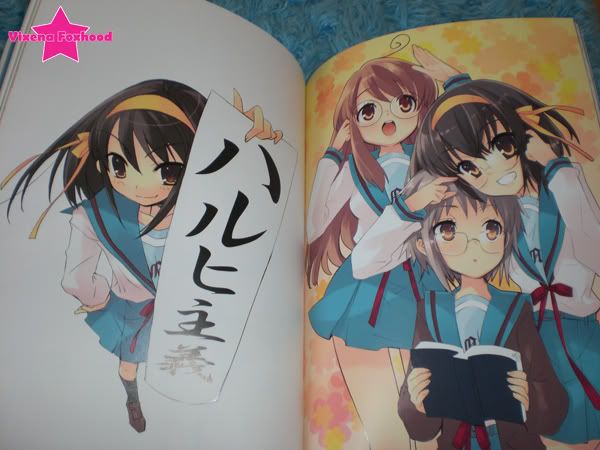 Another thankfully well done picture.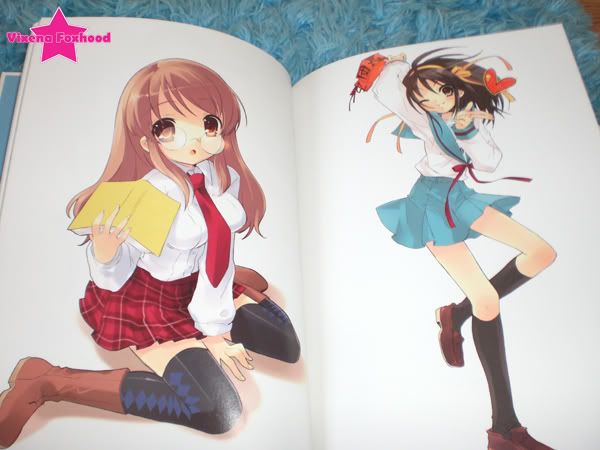 Though they're plain, I like these pictures that just show the characters, mainly because it adds more impact to them.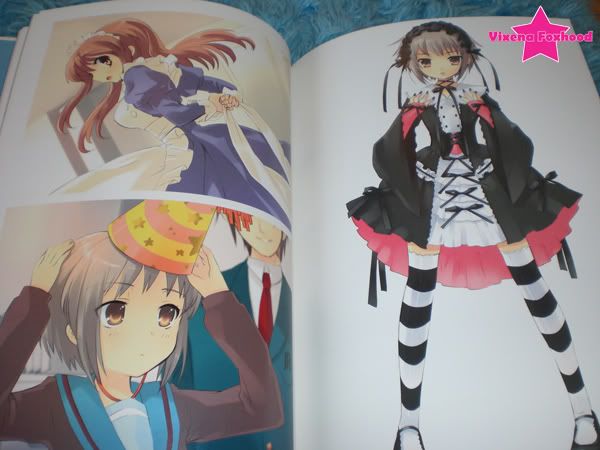 Ah Yuki, I was happy to see they included some of her cute faces.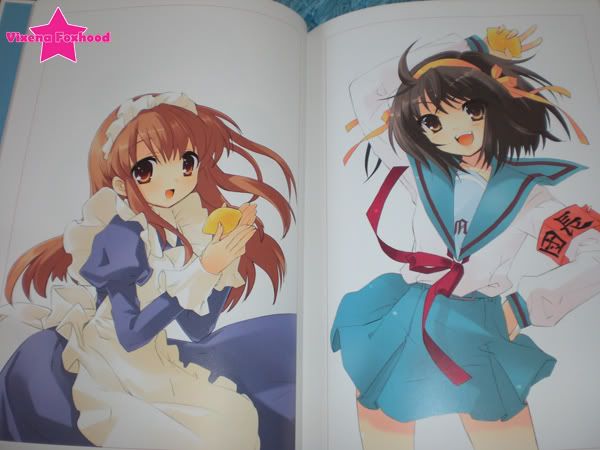 My favorite gals.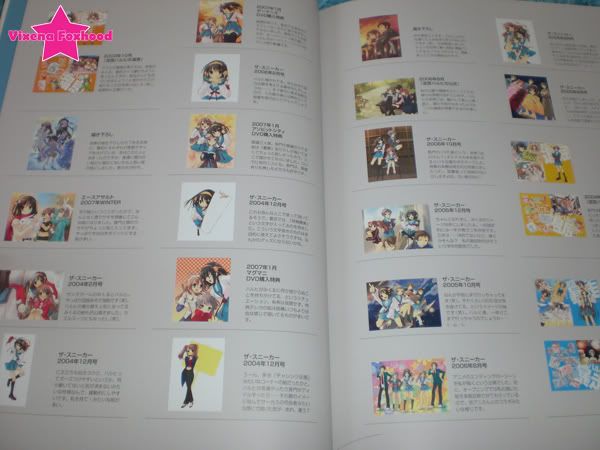 Explanations of the images in Japanese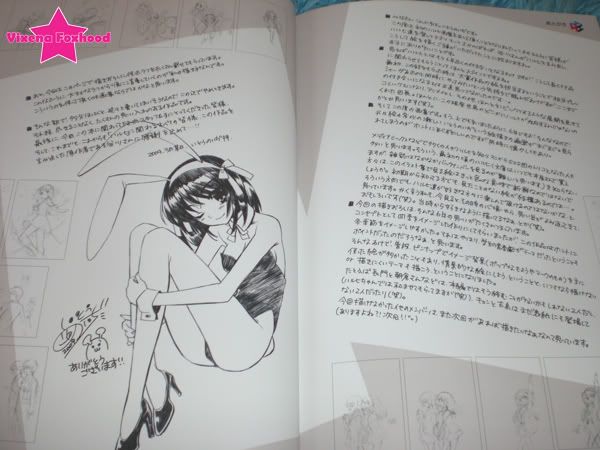 And I'm guessing that this is a letter from the author which I can't read.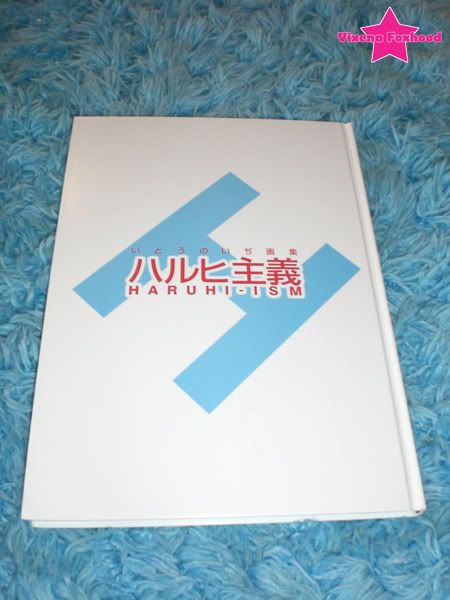 This book is filled with beautiful illustrations that unfortunately got butchered by whoever put the book together. And for such a hefty price, you'd think they'd put more care in to the images and how they're presented. You feel the book in your hands and it feels professional and well worth the money, and if we're basing it purely on the illustrations, yes, this book is worth the money you spent and more, but the way the images were put together… not so much :\