Fruits Basket Viridian Review
February 24, 2010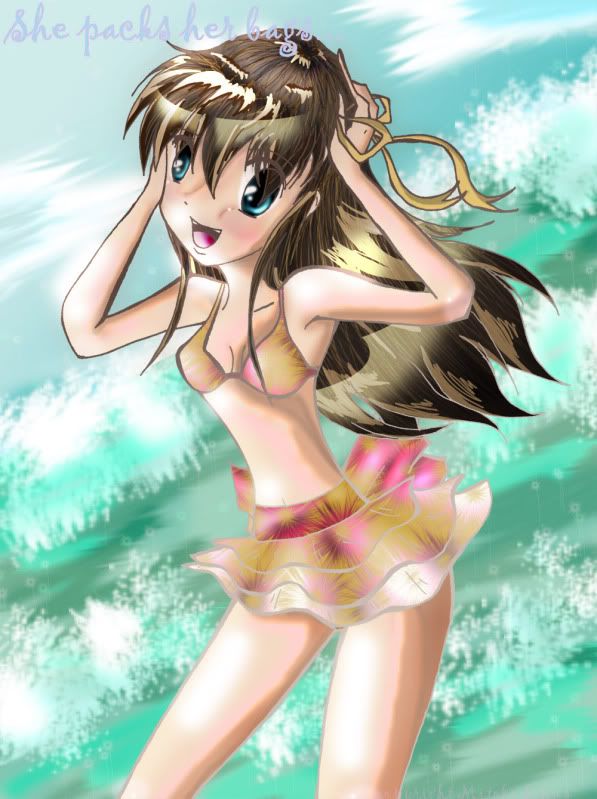 So I took a look at my fellow blogger Chibi and her blog a lot, and she updates a LOT. So she makes me want to update a lot as well
(Let's see how long this keeps up for.) I had a blog before this one (also called Little My Blog) but I didn't know what I was doing and had no idea how to travel the blogging scene, though I had my own reviews up there as well. I'm stealing my own review for the Fruits Basket dvd collection here: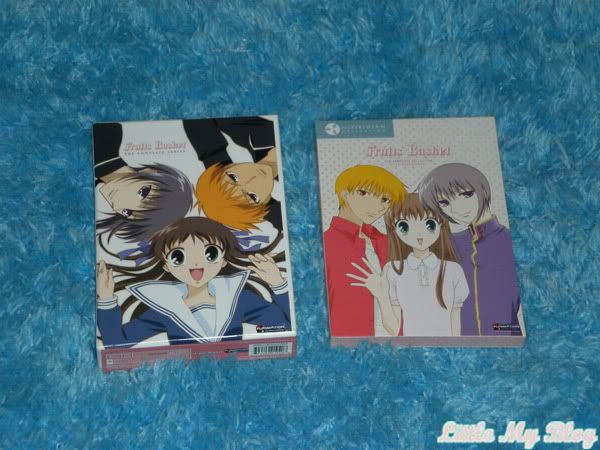 I compared the two releases for those who needed to decide which one to buy. I hijacked it from my own blog to put here, so enjoy!
I was confused as to why they were releasing yet ANOTHER Viridian collection, since the first one didn't come out too long ago, but once I got to Best Buy, I realized why. This is a review of the Viridian Collection, NOT a review of the Fruits Basket series. Perhaps I will do that another day because Lord knows I love Fruits Basket ;-;
Original Viridian Collection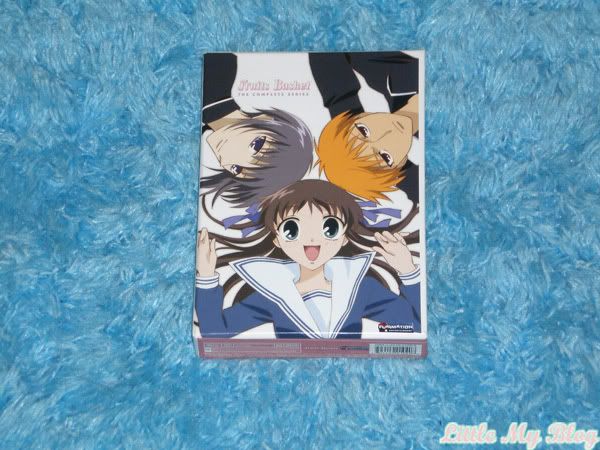 First is first: the disc contentes are EXACTLY the same in both collections. They're both the same length, have the same menu screens, and the second collection doesn't have any new features or anything. The only thing different is their design, so that's what I'm going to cover. The original Viridian collection comes in a box that's almost like cardboard; very durable and you can tell it's made from good material. The art work on the cover is new, and I think it portrays the characters nicely, in a simplistic and delicate way.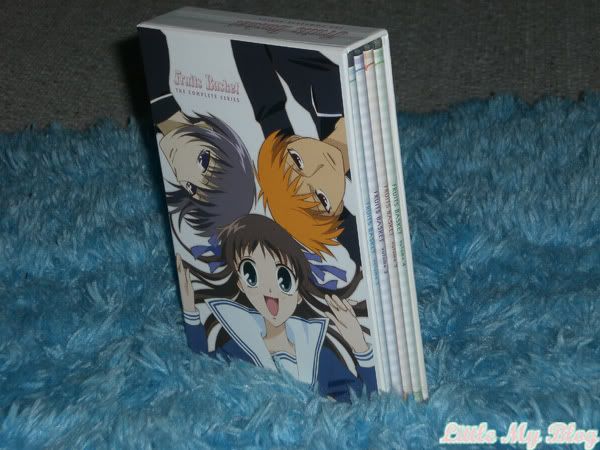 Included are four discs, each disc with it's own cover. You can get an idea of the thickness of the box by it's side view.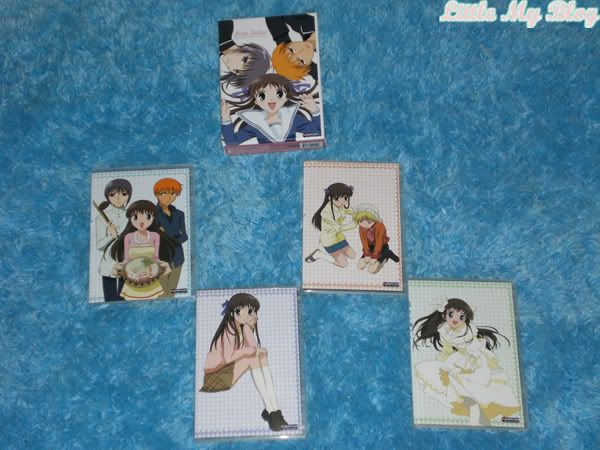 The art on the covers of each disc are unique to the box set, I believe. It's hard to find any real Fruits Basket images online, despite the series being so popular. Usually there are only screencaps form the anime or edited pictures from the manga, so it was nice to see some new pictures.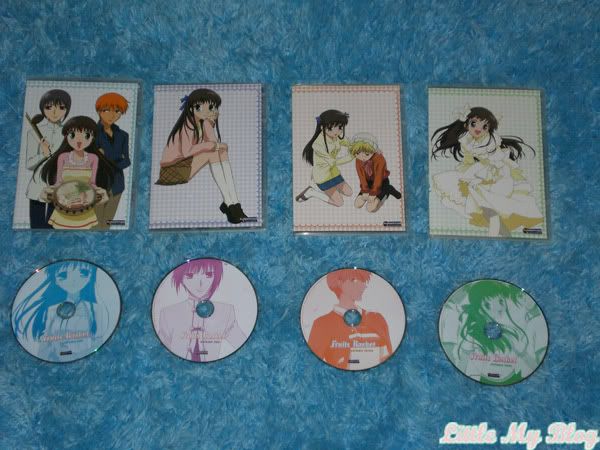 The discs themselves have the original art from the single discs that were released before the box set came out. There was a complete collection before this one, and if I remember correctly, that one was around 95 or so at Best Buy. It came with as OST and character songs and the single dvds compiled in the set. This Viridian collection cost 50 dollars without tax, so I decided to go with this one instead last year. I love the slim packaging and the beautiful pictures <3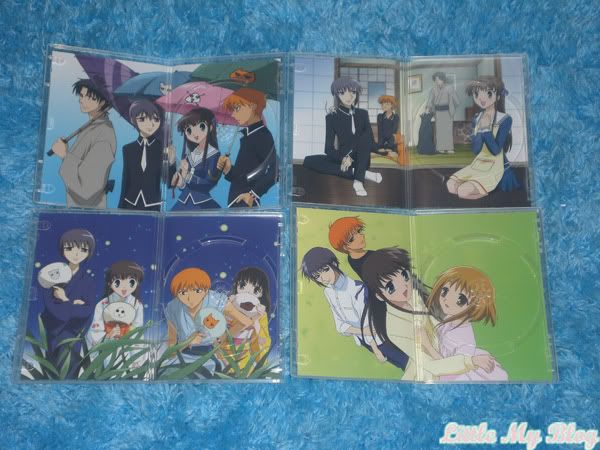 Ah, my favorite part of the discs <3 These images are beautiful, I wish there was some way to take them out so I couldn hang them on my wall ;-; They're the inside of the covers, and when the discs are put away, it covers up half the image. All in all, the original Viridian Collection is optimal for true Fruits Basket nuts, speaking solely on quality and the amount of product you get for the package. You can still find it online at http://www.bestbuy.com, but I think you can only find it at select stores.
Second Viridian Collection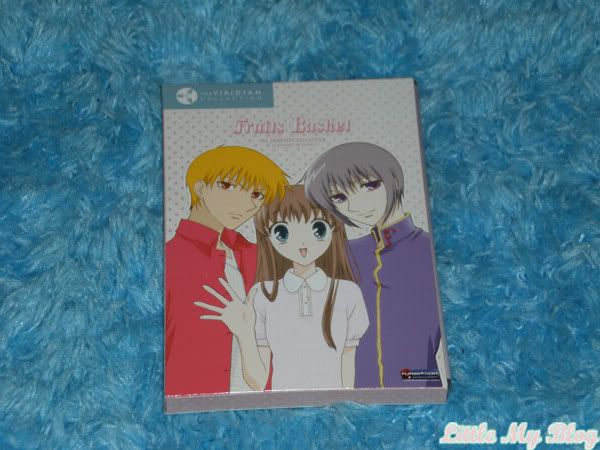 The reson I say this is because one look at the new collection, and I knew what was going on. The anime industry must be getting hit pretty bad in this crisis (I have no idea how; I think otaku are the least likely of people to cut back spending. Most of us are fueled by our passions and will spend regardless if there's a crisis or not on certain items, anime included x3) because once I got in to Best Buy, I looked at the section where Fruits Basket was supposed to be, and the original Viridian collection was gone, and they had plenty of copies when I last checked. They must be switching it out with this copy, which you can tell right off the bat is made with cheaper material and has only two disc covers. The cover has artwork that doesn't look as nice as the original, and is made from cheap cardboard (the glossy kind)
I was debating on buying it as soon as I saw it; I was expecting… I dunno. Fruits Basket is so immensely popular that seeing the series in this packaging just got me angry. I got it anyway because it really is my favorite anime series, and having back up discs to the ones I have now was a good idea (I've watched the Hell out of my original discs XD)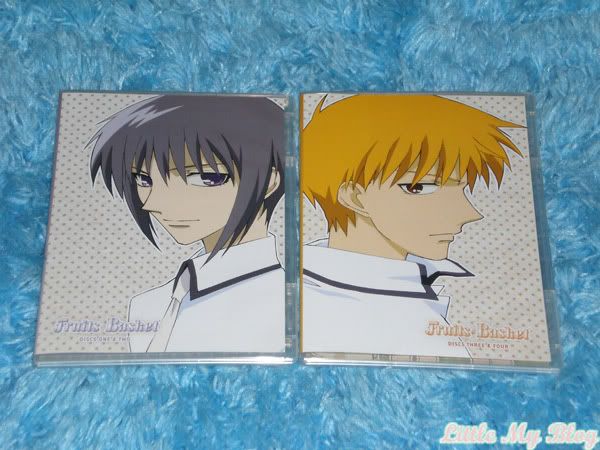 The disc covers, I gotta say, are gorgeous. I am biased toward these boys, really, they are gorgeous, and the images really capture their faces well. I haven't seen this image of them floating anywhere, so that was an added bonus!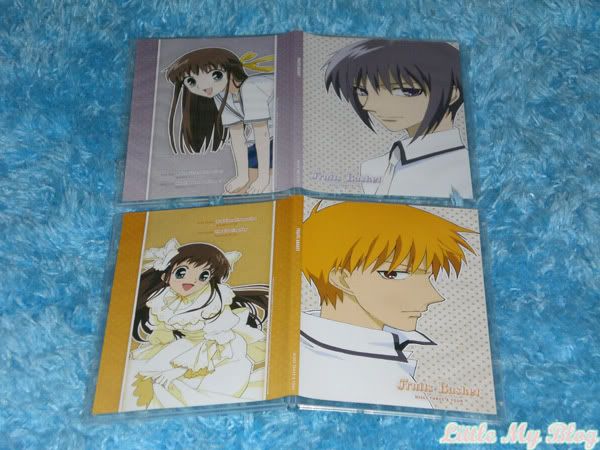 The original discs don't have any real back images, just descriptions of the episodes on each disc. These were limited on space, but I gotta say, I like the design of these disc covers over the original ones. Tohru in the yellow dress was used again, as you can see from above.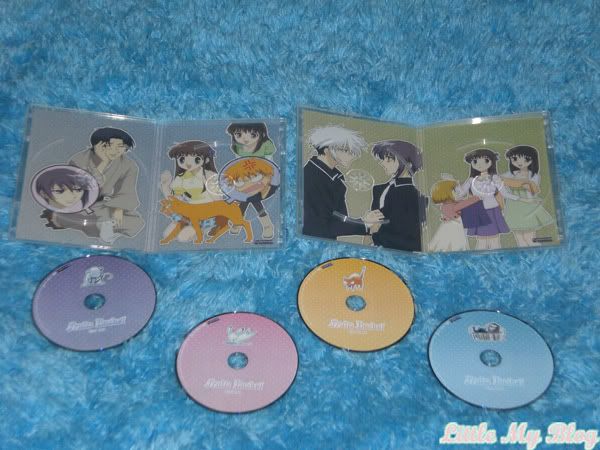 The designs for the second collection are more modern, and I prefer them over the original ones, though they could have done better with the chosen images. So all in all, I would have to say, if you manage to find the original Viridian collection, buy it over the newly released Viridian Collection. Or, if you're a hardcore fan of the series like myself, buy them both, just to have the backup discs XD But there is absolutely no change in the disc contents. They have a total of 26 episodes, the menus are all the same, as well as the extra features. The original Viridian collection goes for about 50 dollars, and the second one is being sold for 35.99. Cheaper price for cheaper quality in packaging.
(Also, I keep sayign I don't usually buy double of anything, but I'm not making a very good case for myself, haha! ._. I really don't… This and the Tsubasa artbook are the only things, I swear!)