Blogger day
February 22, 2010
UGH SUCH AN EXHAUSTING WEEK.
As promised, I'm going to try to do more "A day in the life" with it being more like… "A certain time period in the life" because then I have no restraints.
ಠ_ರೃ
I took a bath for the first time in years, and I think I missed the point. I don't understand bubble baths. I got confused and couldn't sit still, so it was pretty short lived. I had this special bubble bath that would turn the water pink and soft and glitter-y, but it never happened. The bubbles are nice… in theory. In reality, they just confused me and I don't think I'll be taking a bath again for a while.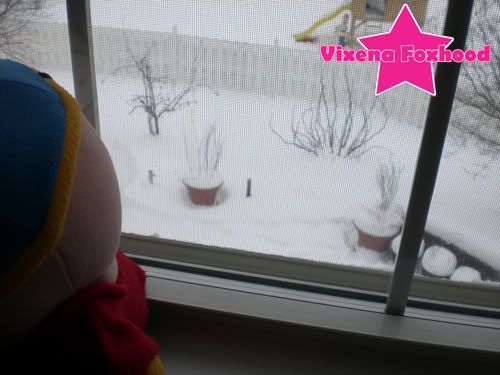 This was taken when we had that epic snow storm. Whenever it snows, I make Eric face outside and open the blinds so he can enjoy it. I mean, he is from South Park, after all. I thought it was cute X3
I KNOW I SAID NO MORE SOUTH PARK ART. But I've been practicing new techniques with coloring and outlining and everything, and Cartman was a good way for me to practice! (And I was studying for an exam and bloody cold.) Ok, now for reals, no more South Park art XD (Even though I'm kinda proud of this *puffs*)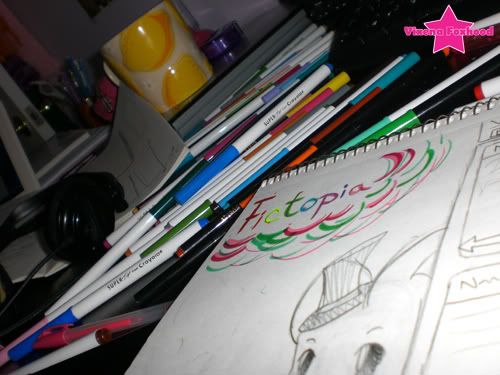 Well, ok, anyway. This week has been a doozy for my desk. I like to keep my desk very clean and organized, but I do slip up, and this week… it was just messy all week. The first pic of the post was from Saturday morning, when I started working on design work for Fictopia. It was… yeah. Just, art supplies and methods of keeping me up (4 cups of coffee .0. You guys think this shit comes to me naturally? Only when there's caffeine in my system. And really loud music.)
Then this was Sunday night. I sketched out Vixena after the meeting I had with the guys because I felt a bit restless with her. LOOK AT THIS MESS *cries*
Then this morning I woke up early (7:30) because I didn't clean from the night before, and Justin was coming over (my partner in the project we're working on). And I'm like… not ok with people seeing me be messy. It's just a thing of mine. It took a really long time, but finally, the mess from last week got fixed up. I blame the exams and lack of time to myself.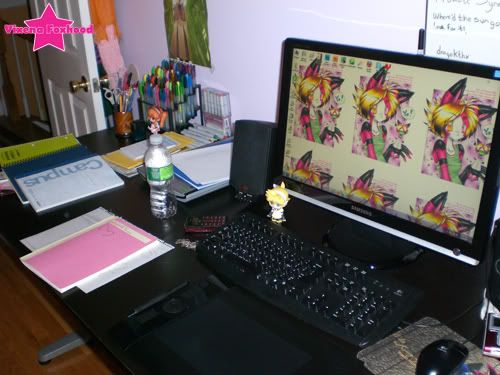 Then this is the desk after Justin left. But now it has more books on it. Why can't I keep things clean ;-;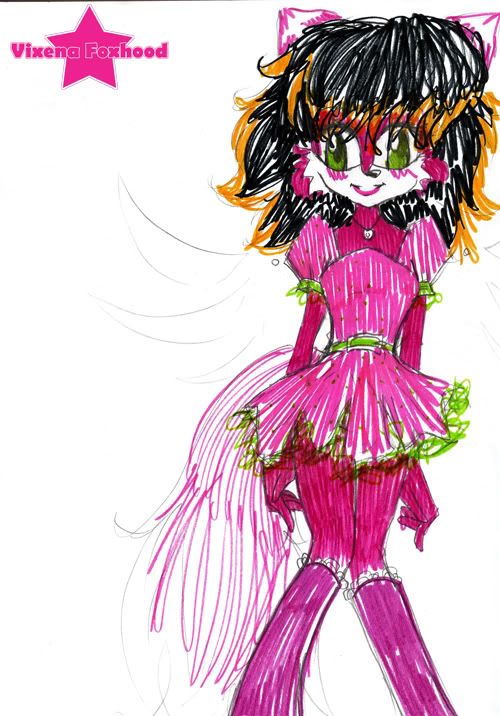 Now for some art. In between theme layouts, I felt my soul dying, so I drew Vixena after a while. I put her gold tips back on because this was her original design back when I was in highschool. Love that coloring? IT'S THE BEST I'VE DONE : |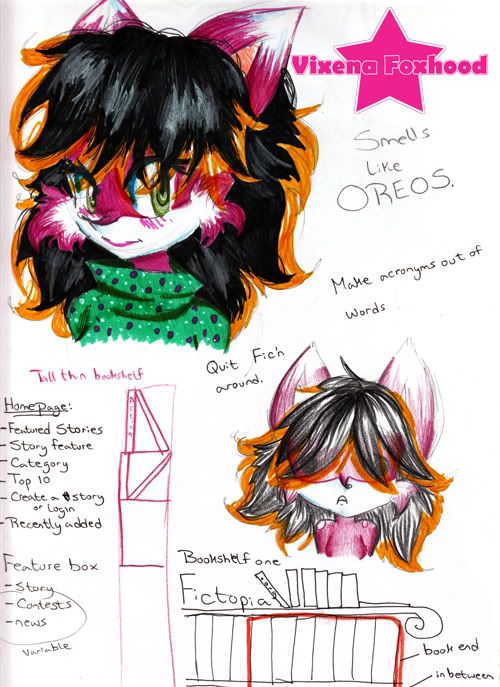 Ignore the design notes. Just look at pretty little Vixena I drew while waiting for the guys to get set up. I used scented markers on Vixena, and I thought black would be licorice… but it's wasn't. It was fucking oreos. I was so hungry. I used a combination of scented markers and Faber Castels for that Vixena up there.
Then the meeting ended around 11 pm and I just had to draw Vixena since it felt so refreshing to see her pretty colored in face again. I think she came out pretty good for using Faber Castels and crappy scented markers.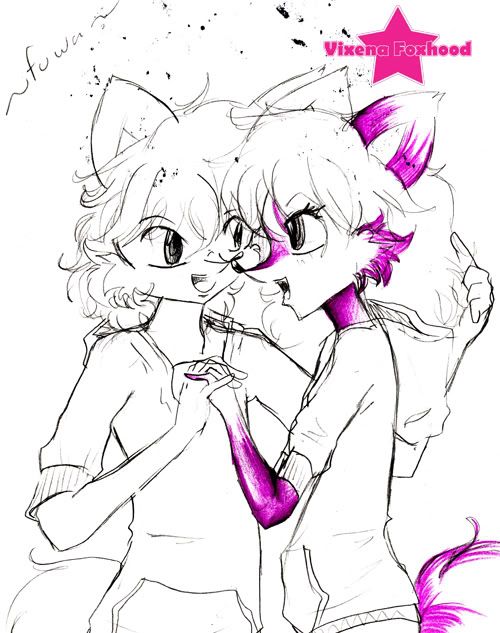 Vixena has a twin now. I didn't want to do it, but it was either that or kill off Vix. Well, they aren't really twins, I guess… they're the same person, just the male and female versions of each other. My biggest thing is making them actually look like each other. Vix is from an alternate universe, but since they're the same person, they act very alike. There's just one crucial thing different about them… but I'll leave that one for later!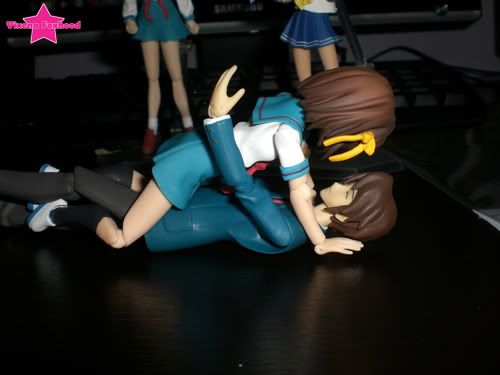 HU HU. Just because I want to leave off with a sexual little tease~
To a good week, ne?